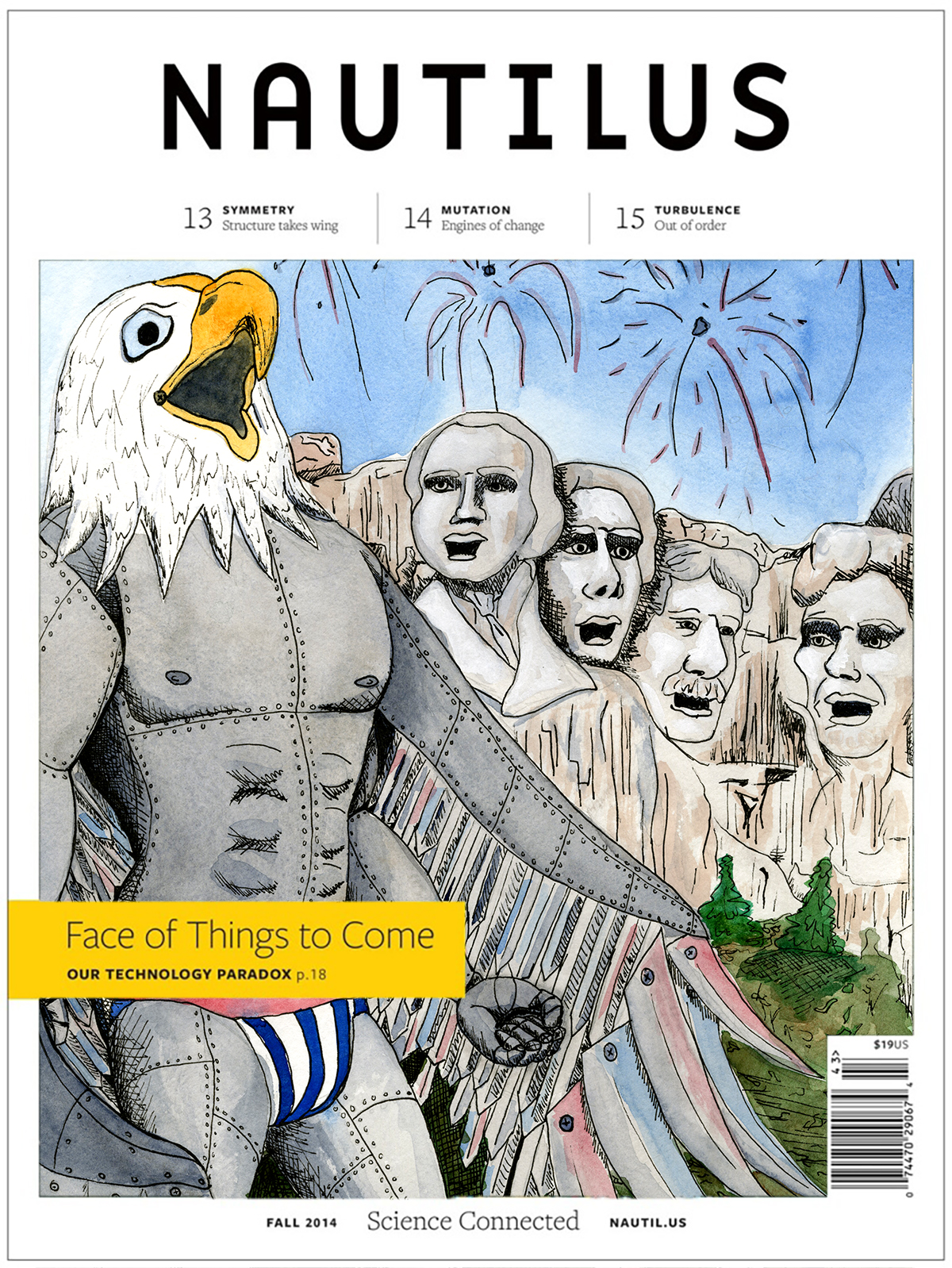 Hypothetical Nautilus Cover, Liberty Prime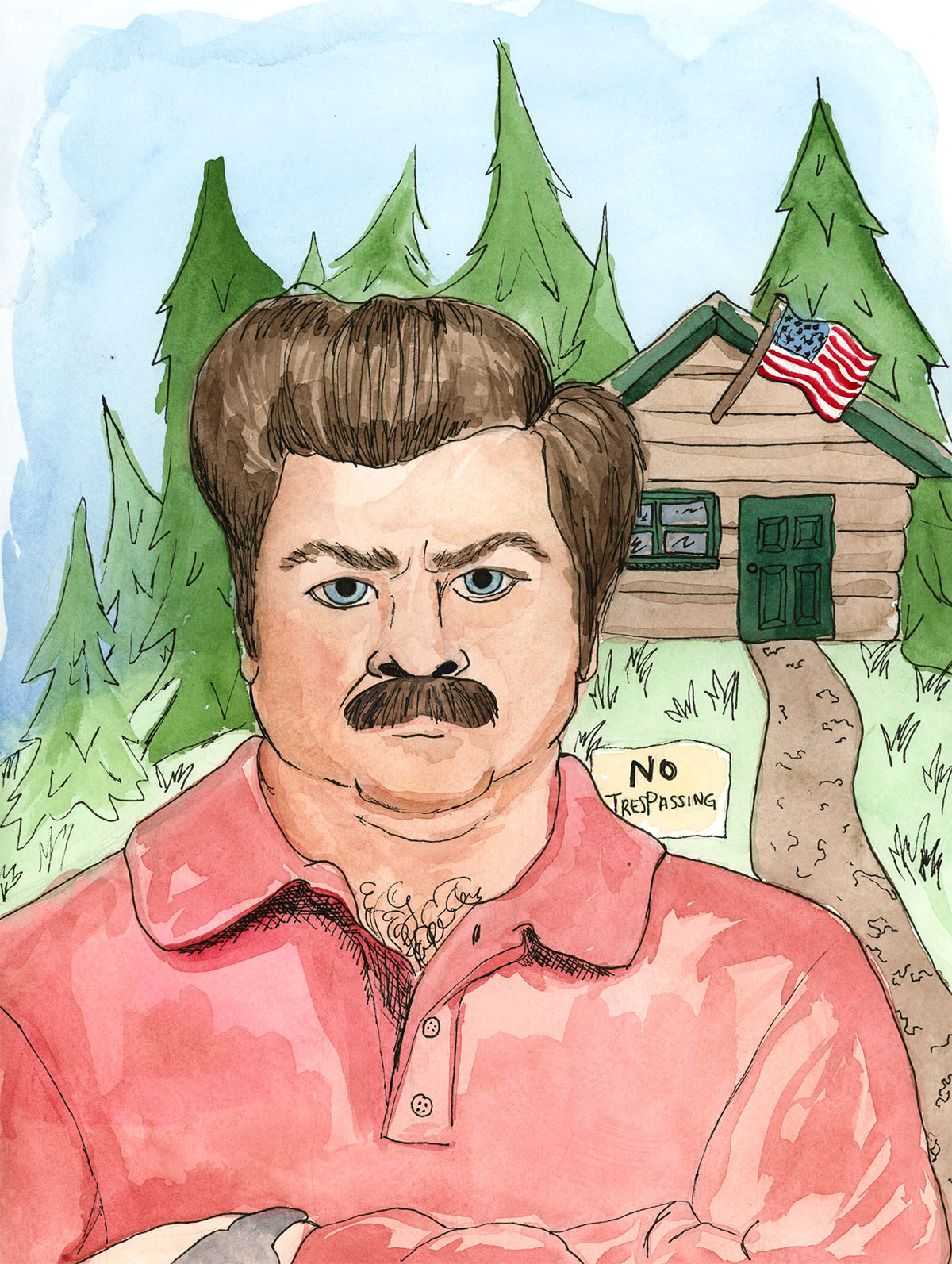 Ron Swanson, My Hero
The Tanner Bunch
Toy Soldiers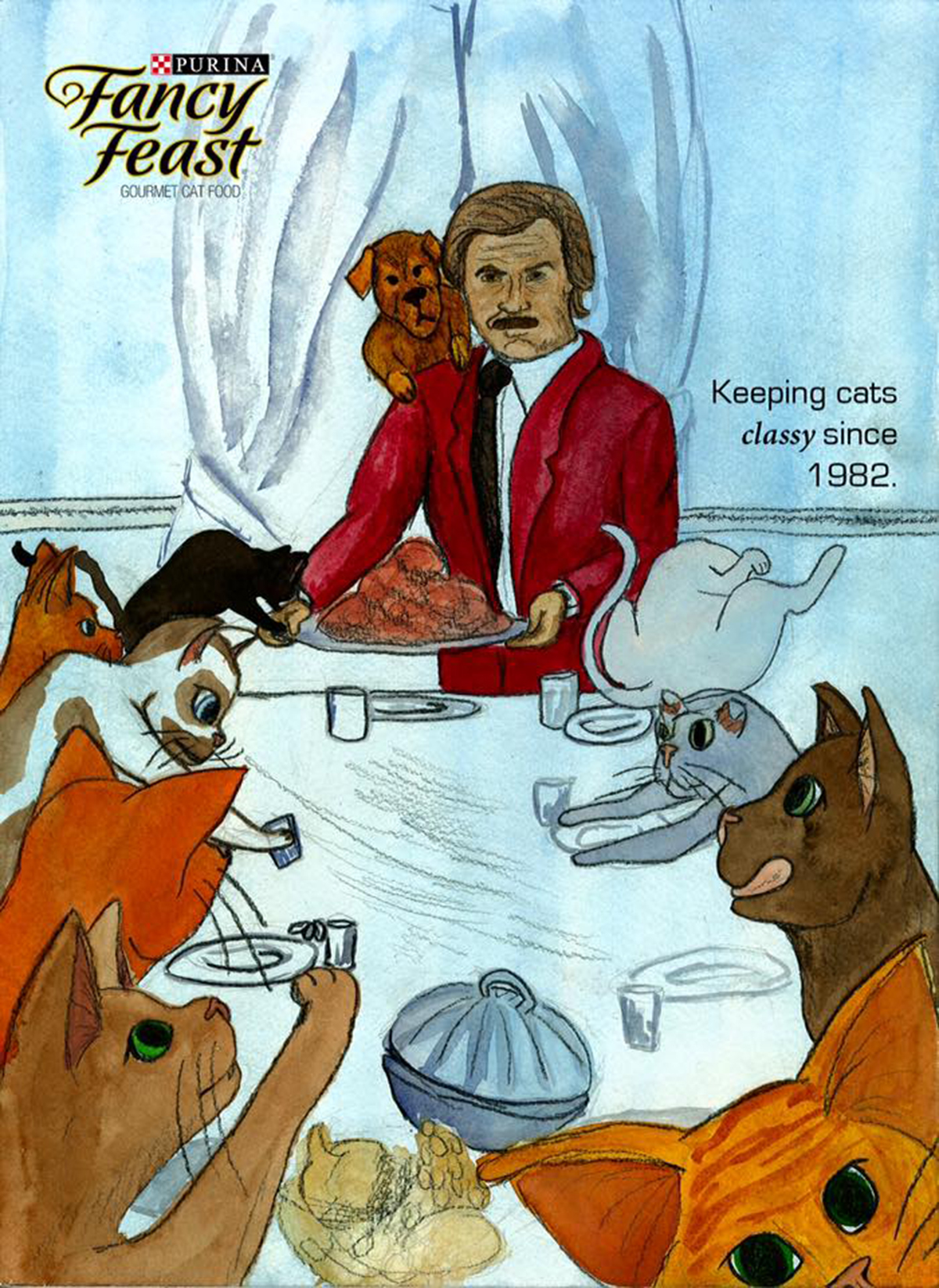 If Fancy Feast Partnered with Anchorman
Self Portrait
Blended Patterns
Cats in Windows
Shirley Ng Benitez Master Study
Horse and Wagon Story
Kitchen
Old Body Back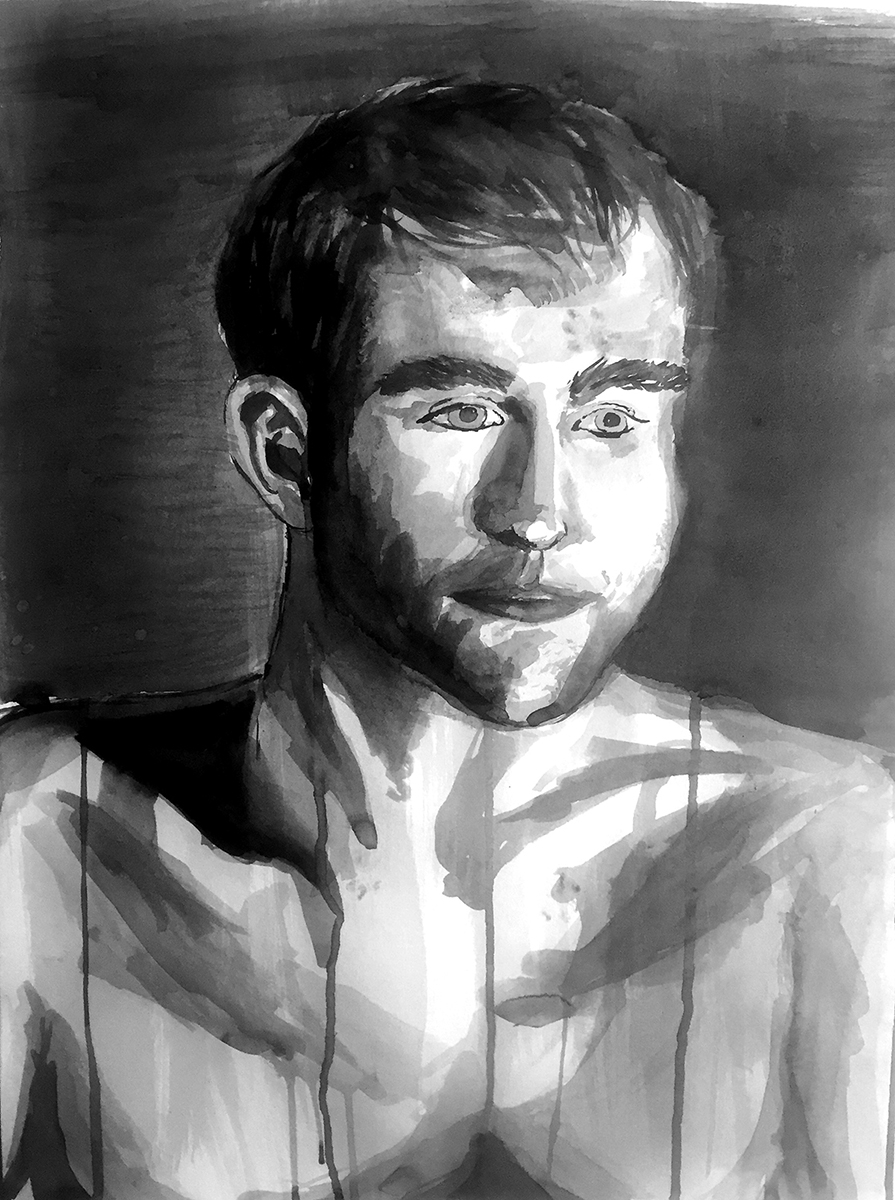 Portrait of Zach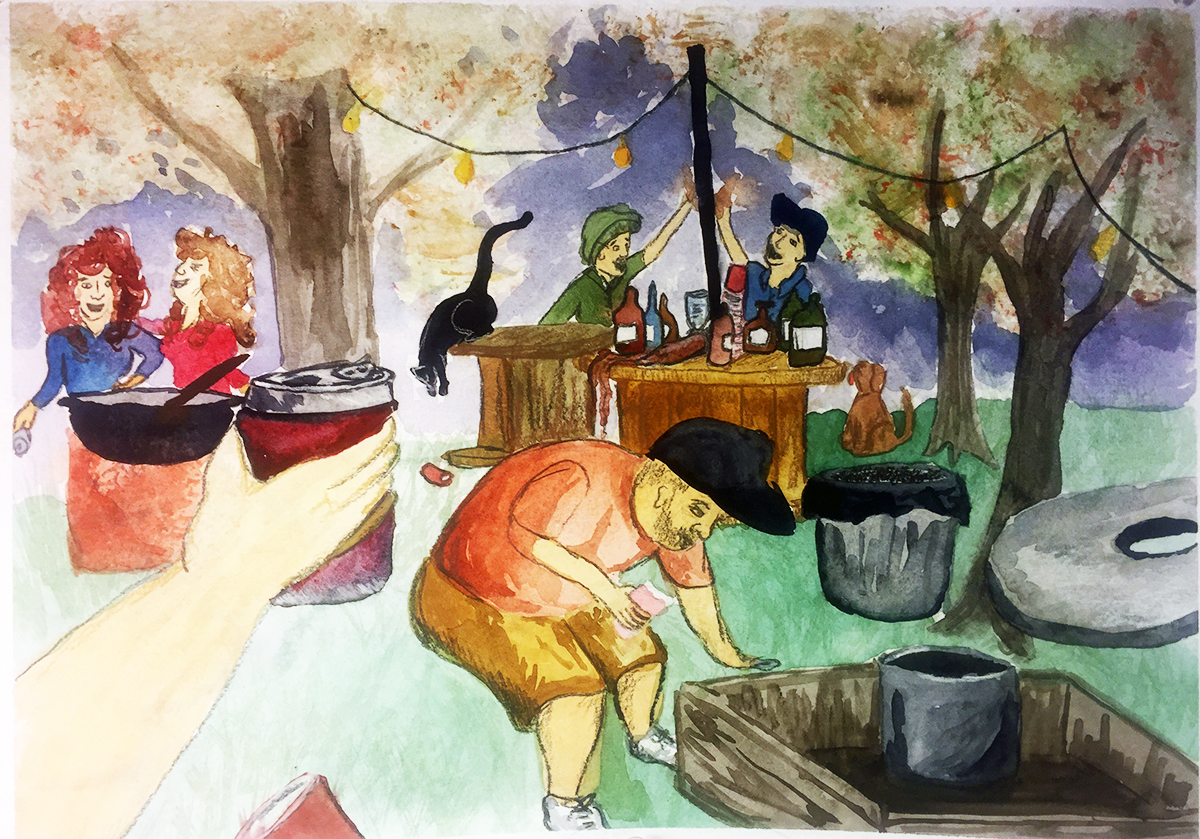 Party at Our House
Still Life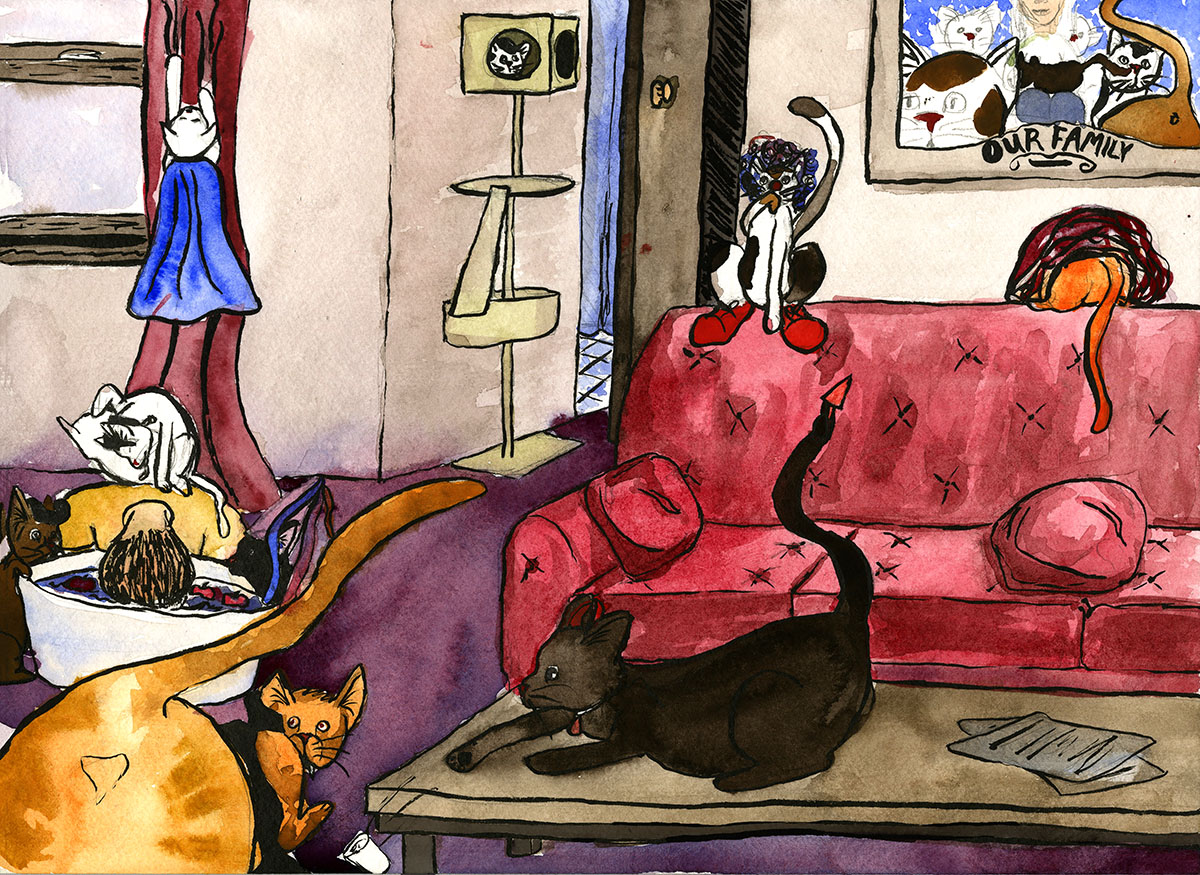 Meowlloween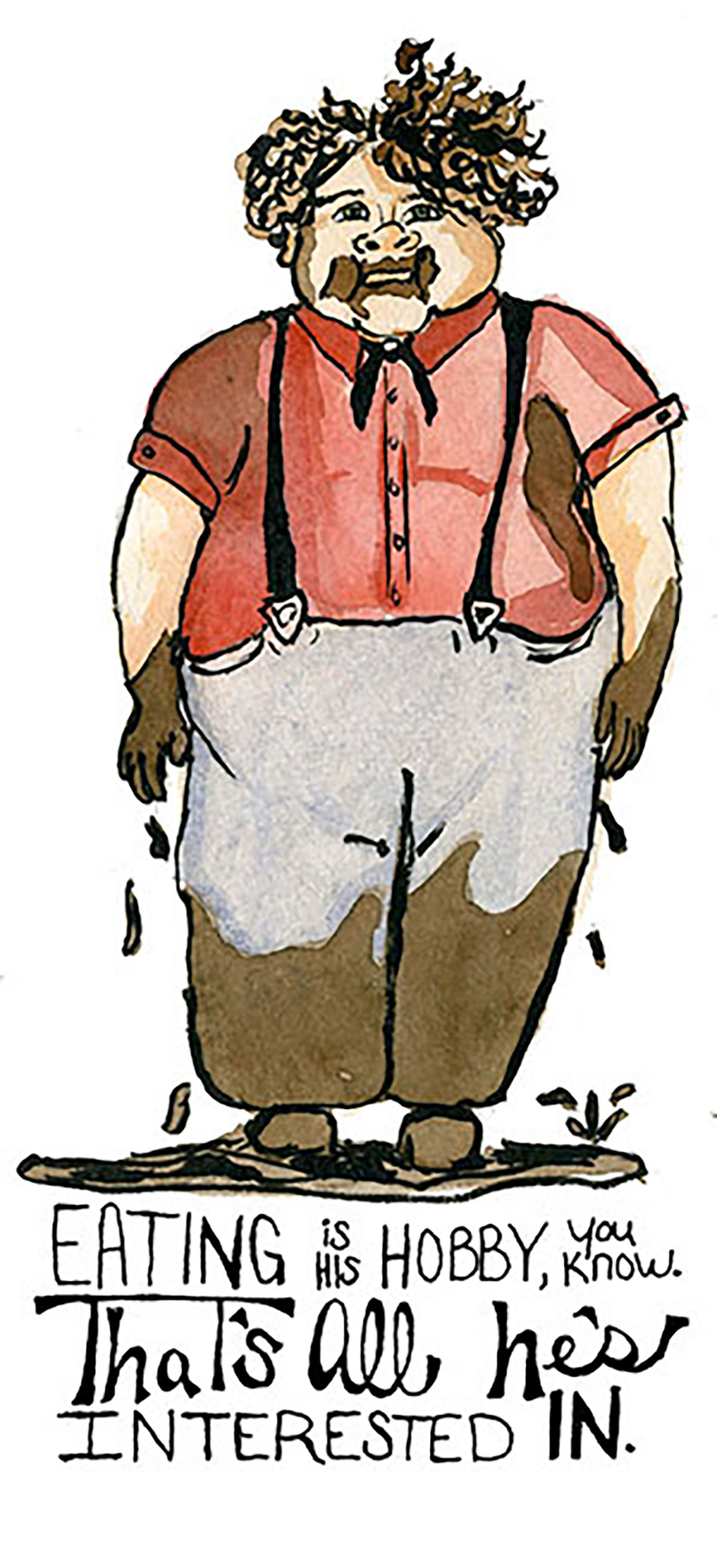 Augustus Gloop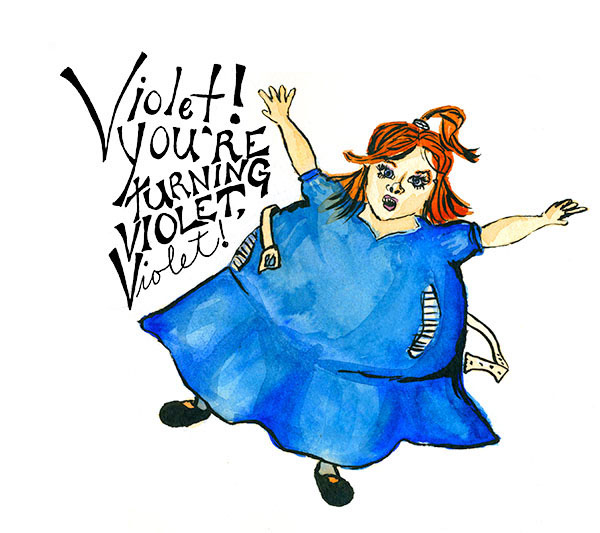 Violet Bouregaurd
Charlie Bucket
Falling Latte
Falling Leaf
Falling Pumpkin
Turtleface
The Office
Jolly Bunch of Assholes
How to Discipline Your Cat
Ron White, Naked in a Bean Bag Chair Eating Cheetos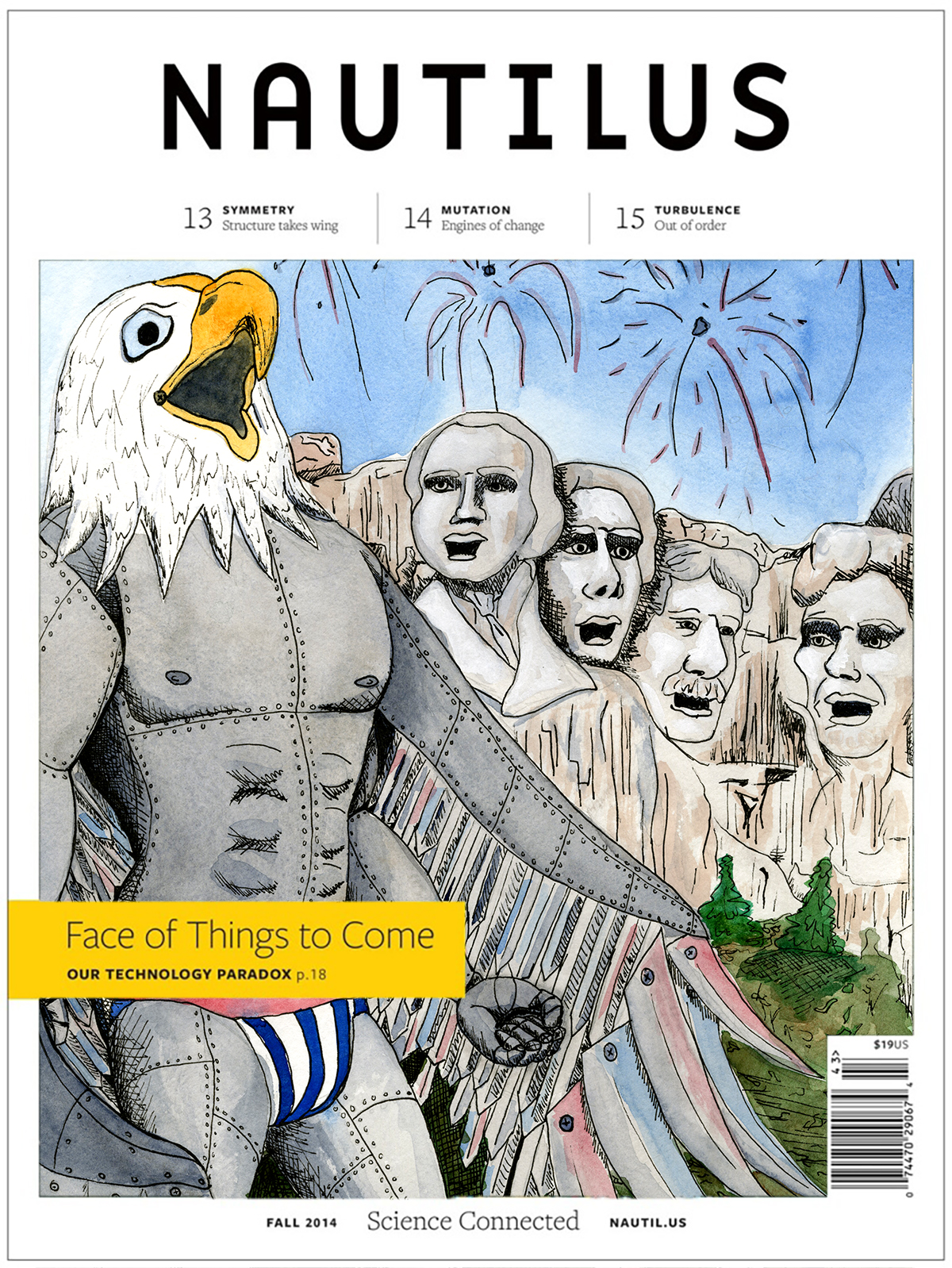 Hypothetical Nautilus Cover, Liberty Prime
This is a hypothetical cover for Nautilus Magazine. It revolves around the idea of robots integrating with the natural world. This is a character named Liberty Prime.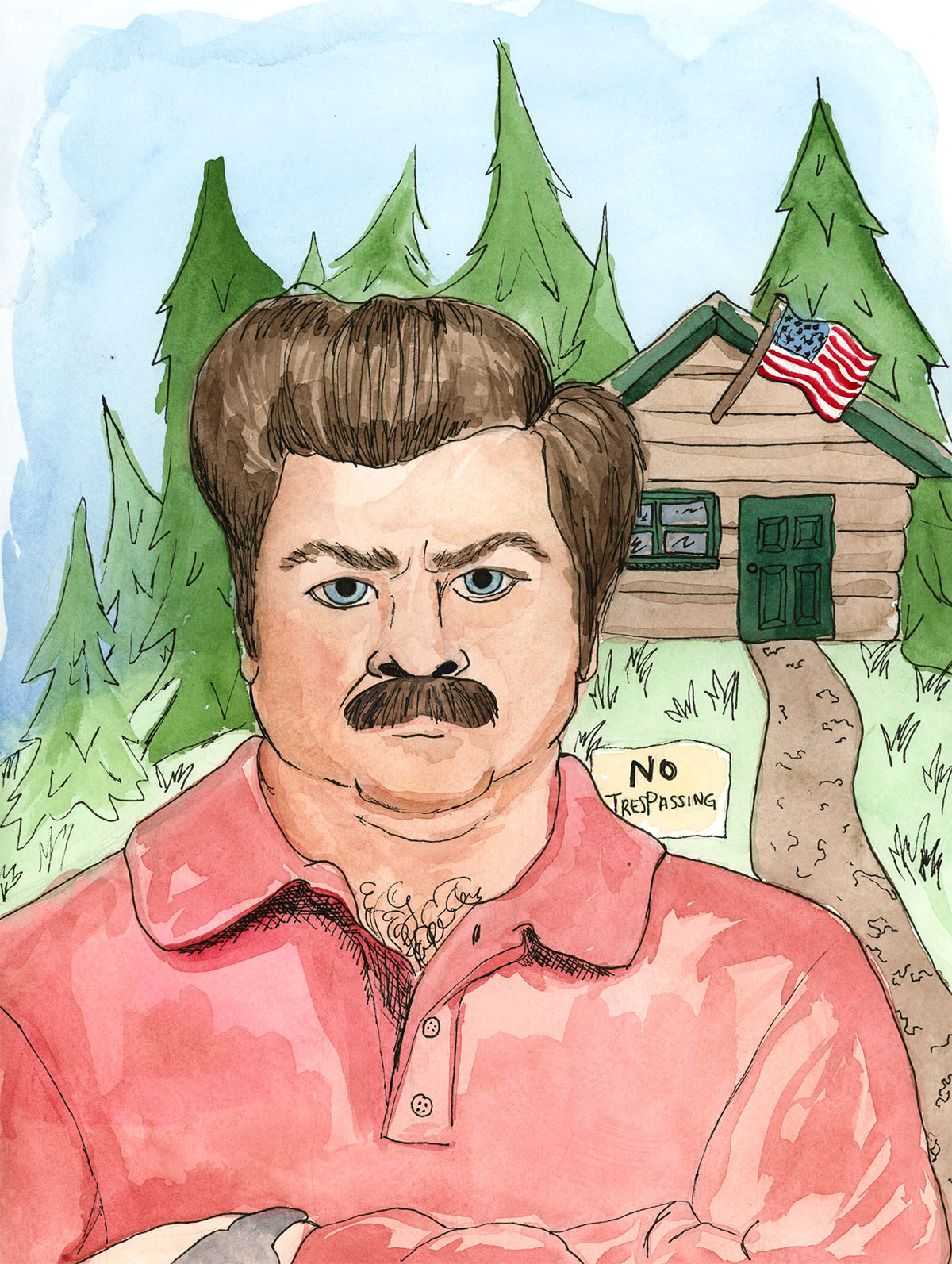 Ron Swanson, My Hero
I did this portrait of Ron Swanson in honor of the end of the show Parks & Rec. Ron Swanson, played by Nick Offerman, was my favorite character.
The Tanner Bunch
I love portraiture, so I did a few portraits of the Full House cast. I thought it would be funny to appropriate the Brady Bunch opening sequence for this purpose.
Toy Soldiers
Indulging a slight obsession with rap music, I narrowed it down to a smaller group-white rappers- for no particular reason other than I happened to be listening to a lot of D12, Eminem, and Macklemore.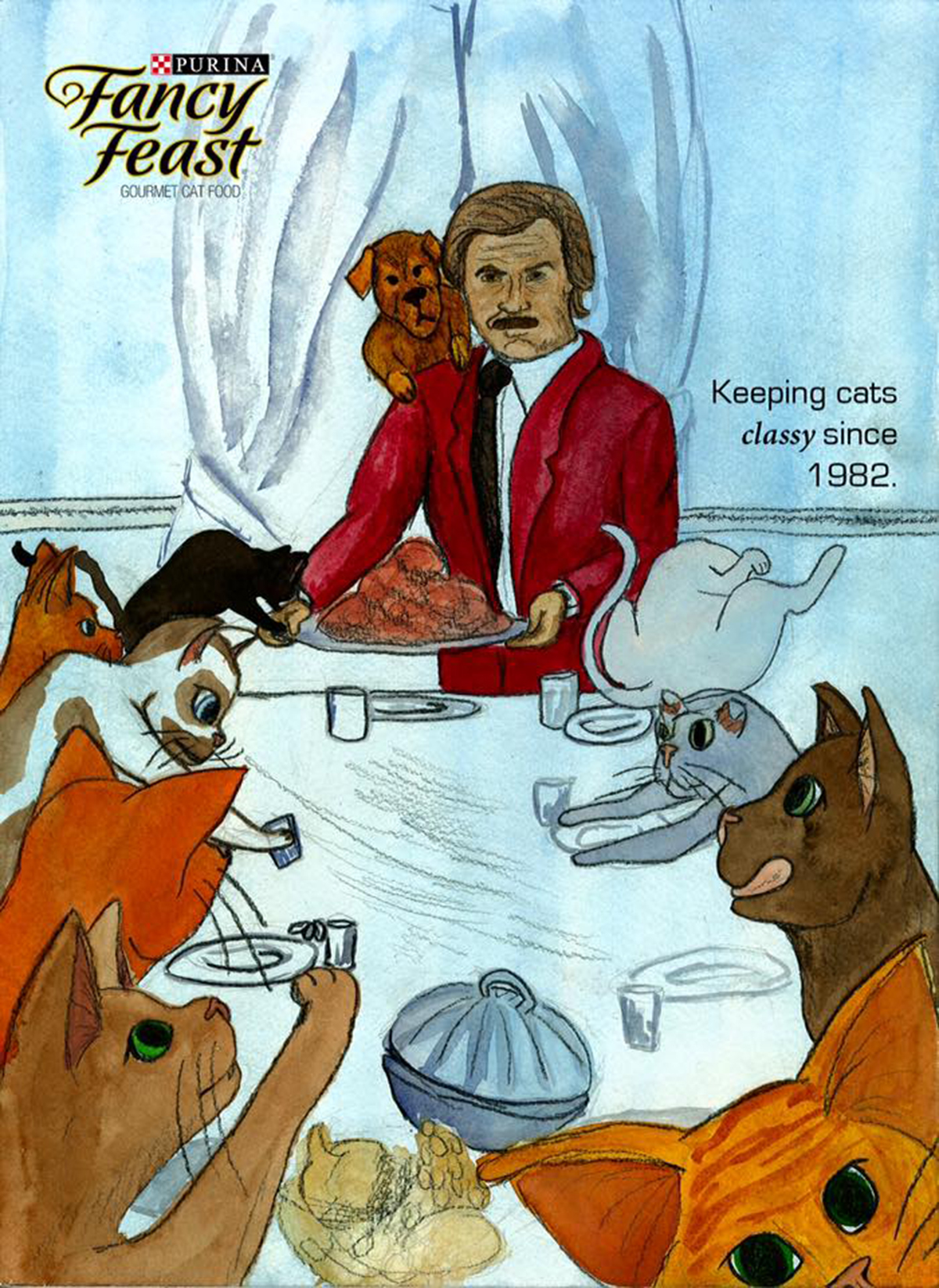 If Fancy Feast Partnered with Anchorman
This was an illustrated brand poster that I made combining two of my favorite things. Cats. And Anchorman.
Self Portrait
Watercolor portrait of myself.
Blended Patterns
A compilation of 5 different fabric patterns I liked. 18X24 inches
Cats in Windows
Self portrait, and two portraits of my cat. watercolor, split compsition, large scale.
Shirley Ng Benitez Master Study
Watercolor illustrator I admire, my attempt at a master study of her work.
Horse and Wagon Story
An illustration for my book for my father, an old family story. watercolor
Kitchen
watercolor kitchen illustration for my father's book.
Old Body Back
Watercolor illustration. 12X9 in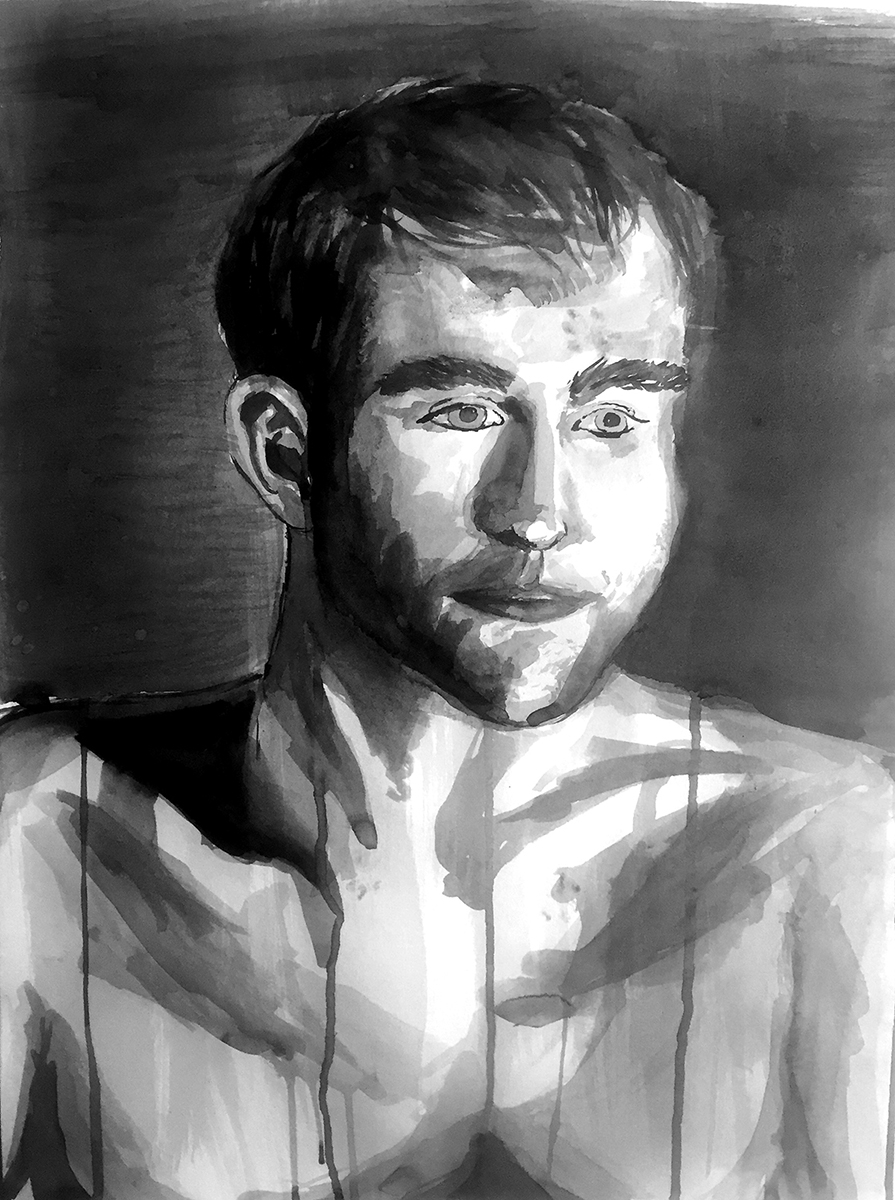 Portrait of Zach
Inkwash portrait. 18X24in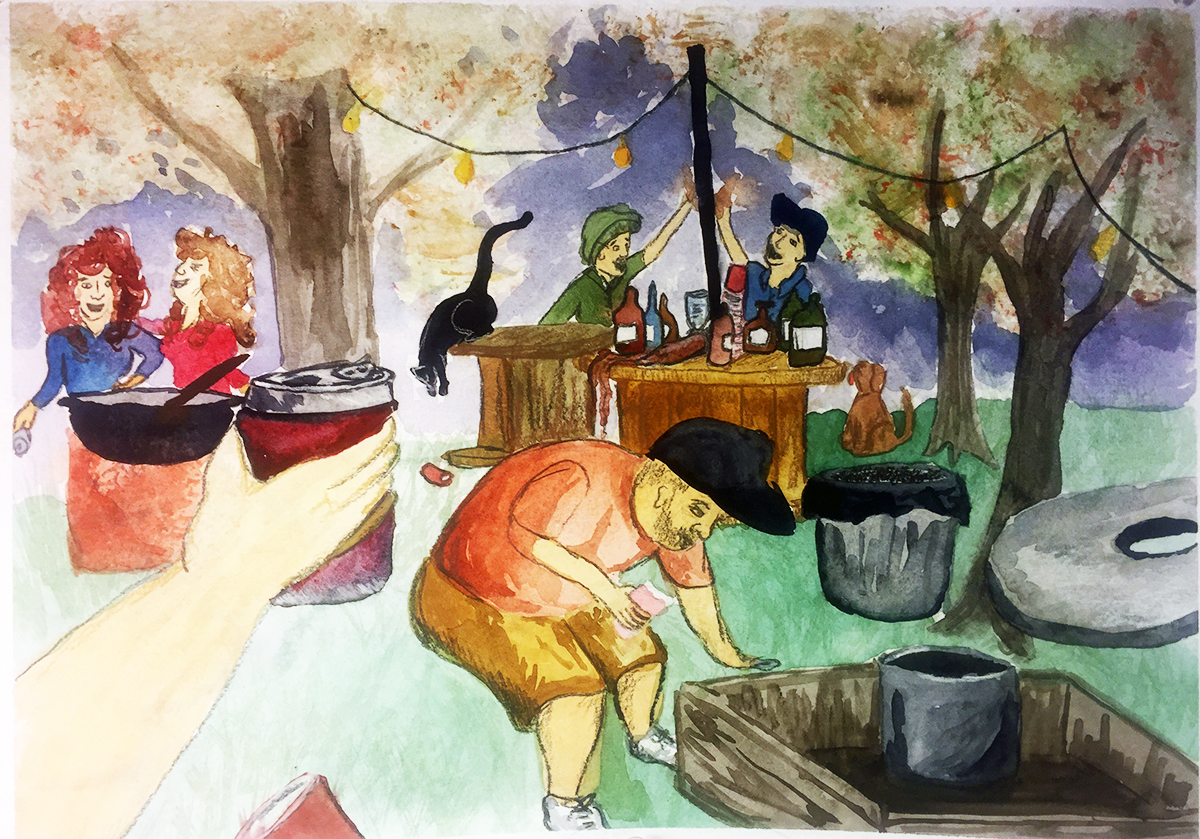 Party at Our House
Watercolor illustration for a book I am making about my father's life.
Still Life
Watercolor, upright, 18X24 inches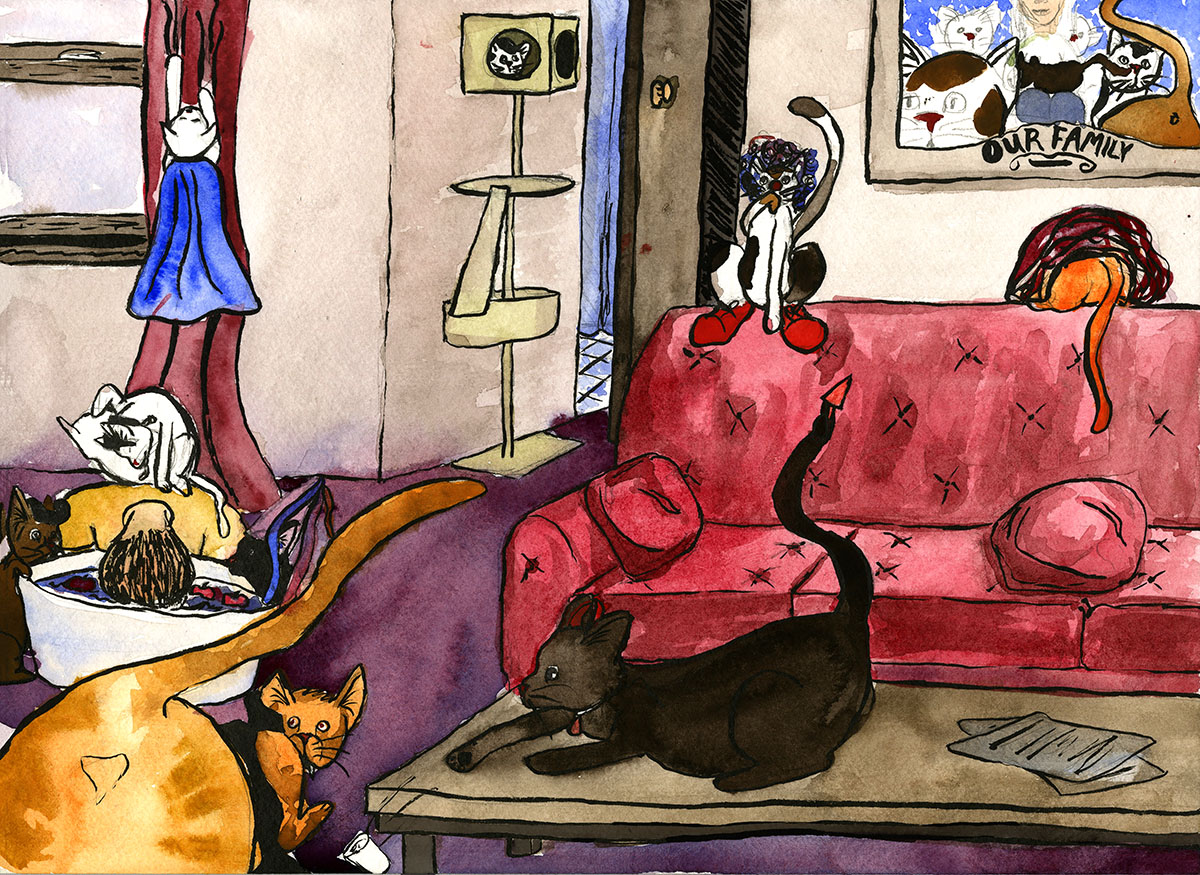 Meowlloween
This is an illustration based on the idea that your only friends are your pets. So who would you invite to your Halloween party?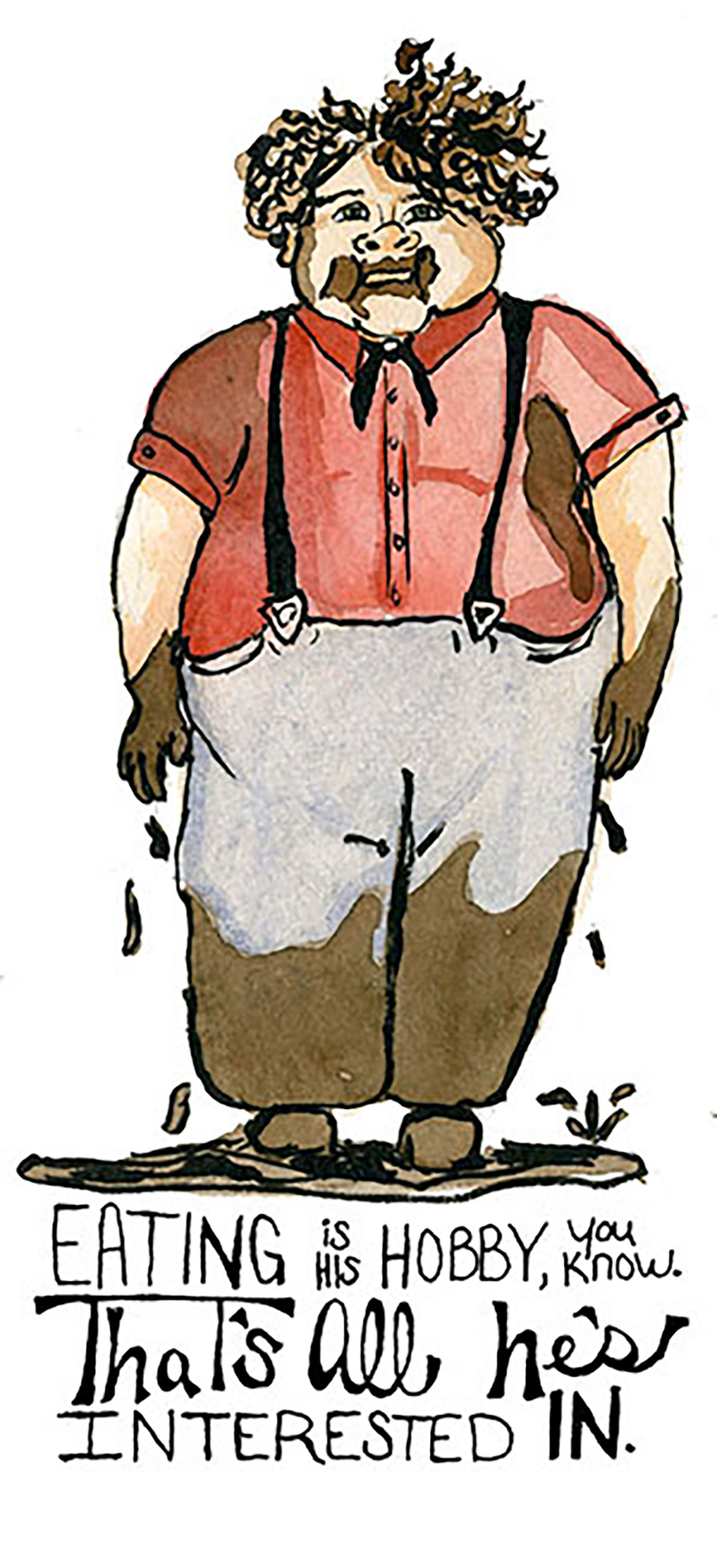 Augustus Gloop
This is 1 of 3 illustrated spots based on the book Charlie and the Chocolate Factory by Roald Dahl.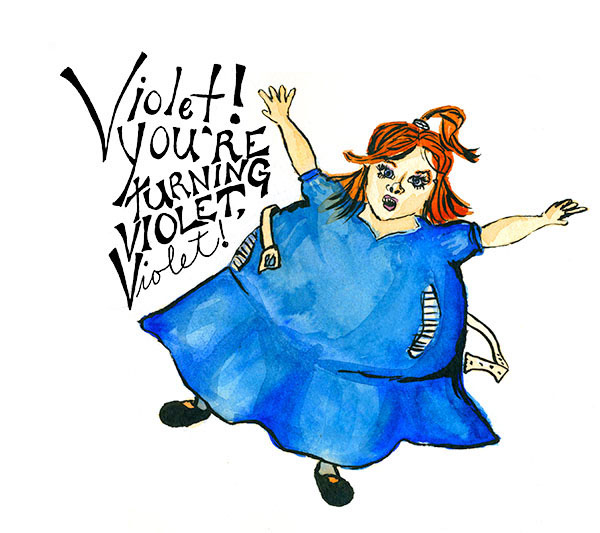 Violet Bouregaurd
This is 1 of 3 illustrated spots based on the book Charlie and the Chocolate Factory by Roald Dahl.
Charlie Bucket
This is 1 of 3 illustrated spots based on the book Charlie and the Chocolate Factory by Roald Dahl.
Falling Latte
One of a three part series called "Fall is Falling." Fall is literally falling.
Falling Leaf
Part two of a three part series of spots. The leaf is realizing its greatest fear reoccurs every year.
Falling Pumpkin
Part three of the three part series. The pumpkin is feeling rather distraught about fall.
Turtleface
A poster based on the short story Turtleface by Arthor Bradford.
The Office
Yet again feeding an obsession.
Jolly Bunch of Assholes
A portrait of admiration for one of the best cinematic family men of all time.
How to Discipline Your Cat
I'm greatly inspired by everyday occurrences in my life. My cat, for example, is an inspiration in a lot of my work. We have come up with a few effective ways of discipline, and a few I only fantasize about on occassion.
Ron White, Naked in a Bean Bag Chair Eating Cheetos
I'm currently working on a compilation of the best "Rons." This happened to be my second illustration in regards to that.
1
2
3
4
5
6
7
8
9
10
11
12
13
14
15
16
17
18
19
20
21
22
23
24
25
26
27
28
·
·
·
·
·
·
·
·
·
·
·
·
·
·
·
·
·
·
·
·
·
·
·
·
·
·
·
·